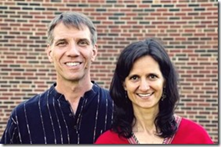 The Tim Miller Family - Lutheran Bible Translators, SE Asia
Tim Miller, the son of Bethlehem members, Bob and Janes Miller attended St. Paul's Lutheran School and Concordia Lutheran High School. When the Millers transferred to Bethlehem, Tim attended Bethlehem Youth Group, and considers Bethlehem his home church. Tim's wife, Michelle, is the daughter of LBT missionaries in Liberia. Tim and Michelle have been missionaries for 27 years and are currently serving in the LBT ministry living and working in SE Asia, Their daughter Ellyn is a Special Education Science teacher in a West Chicago charter high school. Son Joel is an elementary education graduate of Wheaton and is starting a year of worship/discipleship training at Bethel Institute in Redding, California. Daughter, Sarah, is beginning her senior year at Wheaton in elementary education and ESL.
The Millers are participating in the Khon Proect, a "people group" of SE Asia. Michelle is a linguist, working with translators to develop Sunday School, Women's Health and other materials for SE Asians in their language. They are happy to report that the "Genesis Sunday School Materials" in the Khon language are now completed and being distributed. Tim is more involved in "Scripture Engagement" that is equipping the people through Bible study and training. The Millers want us to know that our prayers for them, their children, and their ministry are very much appreciated! Tim will be speaking during services on October 14 and leading the Bible Class.