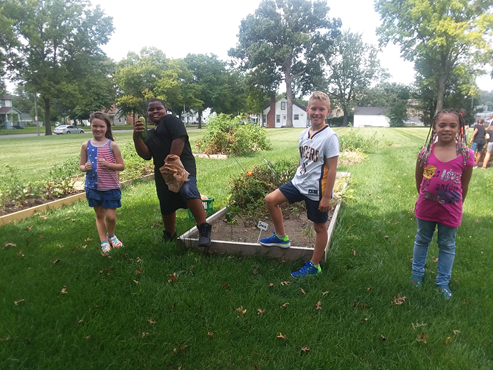 Our community garden was founded in 2016. It was and remains a cooperative venture between Irwin Elementary School, St. Henry's Catholic Church and Bethlehem Lutheran Church.
Fort Wayne Community Schools owns the property in front of our school on Anthony Boulevard. We thank them for graciously allowing us to use the land for our community garden. The science students from Irwin have two plots in the garden. They plant, weed and harvest year round and take home skills and knowledge that will serve them throughout their lives.
Without the help and encouragement of St. Henry's Garden manager, Paul Gerardot, we probably would never have gotten off the ground. He has been generous with his time, labors, and knowledge. He and his volunteers built some of our garden boxes, brought us soil and have given us plants.
We have grown a little every year and hopefully will continue to do so in the future. We have been able to contribute fresh vegetables to the Food Bank. Our continuing goal is to serve more people in the neighborhood.